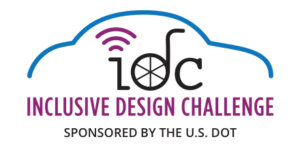 FAR is neck deep in Phase II of the Inclusive Design Challenge!
Next week, January 26 at 3PM Eastern, FAR will be presenting our phase II updates to the Department of Transportation and Inclusive Design Challenge team alongside other semi-finalists.
FAR's 10-minute presentation on Day 2 will be led by Tanner Gers, Foresight Augmented Reality's Director of Business Development, where he will walk through FAR's exciting developments, how FAR's autonomous vehicle accessibility solution works, and share a video of a totally blind person using it to find a vehicle!
Join us live to learn more. Five teams will present in each session; advanced registration is required.
Day 1 (register)
Monday, January 24, 2022
11:30AM to 1:00PM Eastern
FAR's presentation is here on Day 2 (register)
Wednesday, January 26, 2022
1:30PM to 3:00PM Eastern